Many of us are now working from home on a more regular basis. This often means hours upon hours of looking at a laptop screen. A by-product of this sedentary behaviour can be neck pain and strains. However, there are steps that can be done that can help to reduce or eliminate this pain by correcting your work from home setup with your laptop.
1. Raise your laptop height
Ideally you want your eyes to be in line with the top third of the screen. This puts yourself in the most neutral posture and helps to relax the neck and eye muscles more than if you are tilting your head down constantly.
If you are finding your laptop is simply too low, you may need to purchase a laptop stand. We have a great selection of laptop stands to help place your screen in the best viewing position.
We recommend checking out the Roost Laptop Stand.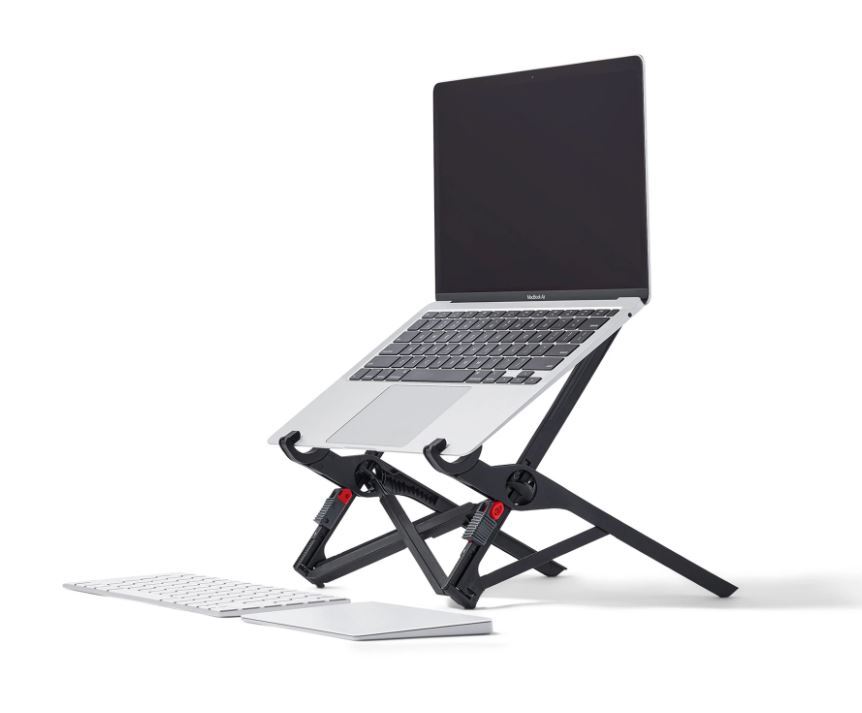 This provides 3 great height settings to adjust your screen height for maximum comfort, whilst also being incredibly portable.
There is also the Fellowes Hana Laptop Support that has effortless finger touch height adjustment with a gas spring arm and includes USB charge ports and cable management.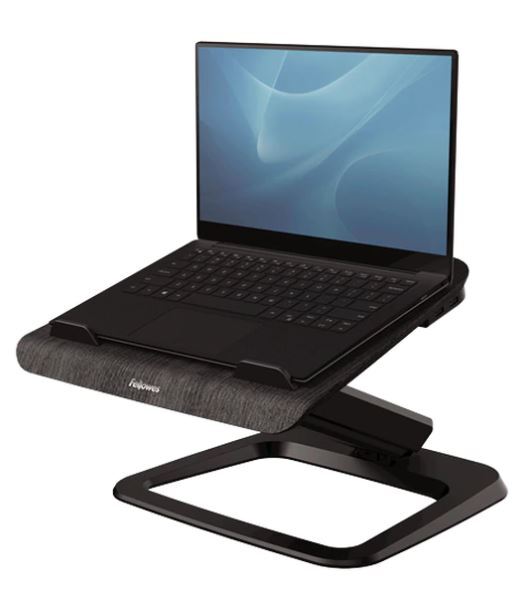 2. Adjust your laptop distance
You do not want to be too close to your laptop screen as you can suffer from eye strain and neck pain.
When looking at your laptop it is important for the screen to be approximately one arm's length away. This gives you the ability to easily view the information on the screen, whilst not being too close that it hurts your eyes.
3. Use a separate keyboard
If you are using a laptop stand to position your laptop in the best position, this will mean you cannot use the laptop keyboard or pointer as it will not be in the correct ergonomic position. You will need a separate keyboard and we have an extensive range to choose from.
A compact keyboard does away with the numeric keypad, so that the mouse can be brought in closer to a central position to help reduce any shoulder pain caused from over-extending while using the mouse.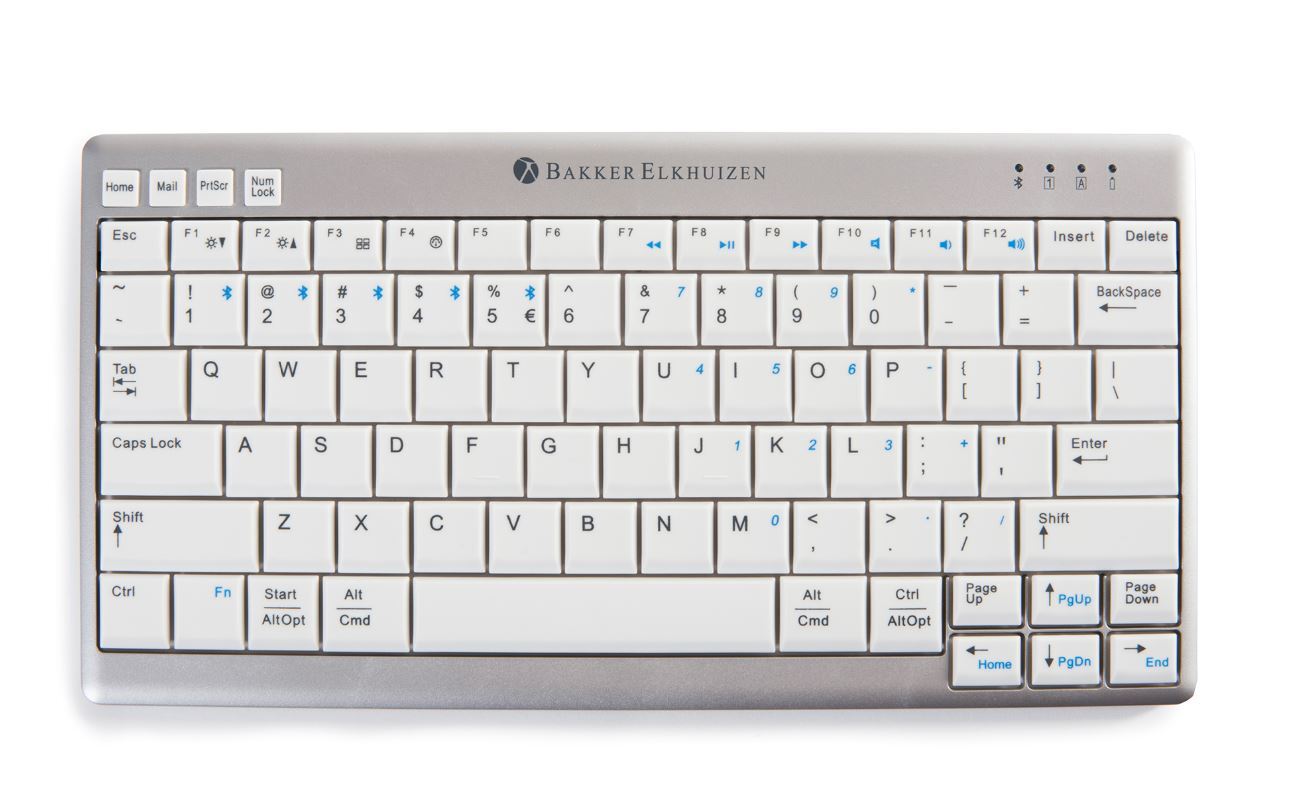 This is also a good portable option for those wanting to take to and from the home and office.
4. Use a separate mouse
As mentioned above, with the use of a laptop stand you will need a separate mouse to achieve an ergonomic setup.
You may want to consider our Work From Home Laptop Accessory Package which includes a laptop stand, keyboard and mouse, so you are all set to go!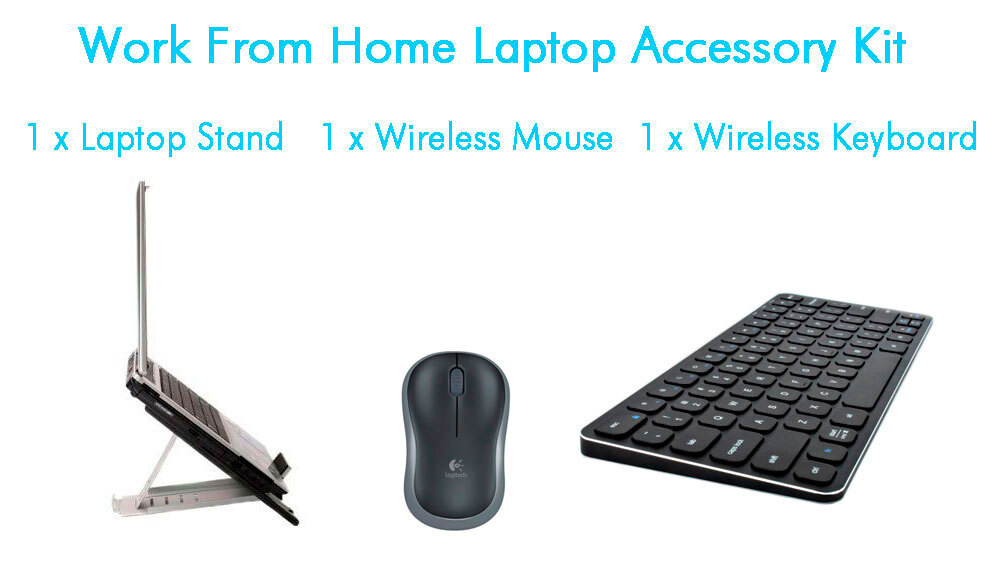 There is the very popular vertical mouse that puts your wrist in a more comfortable 'handshake position' to reduce strain, which you can check out our range here…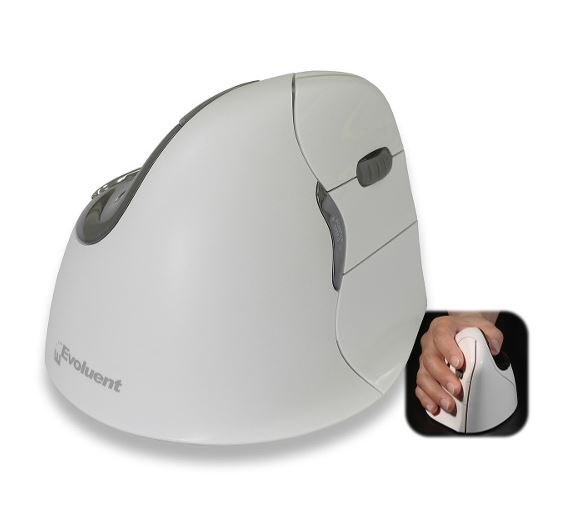 5. Use a document holder
If you are referring to printed documents frequently, then you can easily develop neck pain and strain from the constant neck movements to the left and right, up and down. If you make use of an in-line document holder, you can bring the paperwork up closer to your eye level, and you will remain in a more neutral central position. Here are some recommended document holders
An in-line document holder such as the Microdesk is designed to help get rid of neck pain.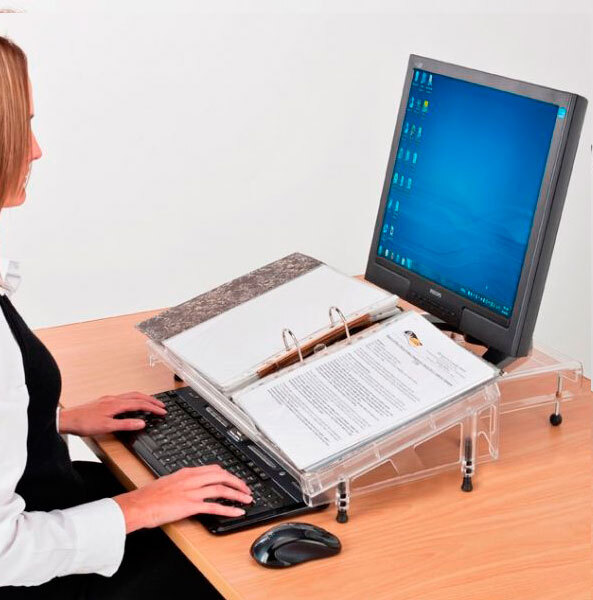 The Microdesk always keeps you inline. It simply sits in between the laptop and keyboard, and you put your documents on it. Traditionally these documents would be off to either side or flat on the desk causing you to constantly look left or right or down to refer to them. These repetitive movements quickly add up, and then the pain sneaks up too. An inline document holder is a great way to keep the pain away.
6. Take regular breaks
Your eyes need a break from time to time, just as much as the rest of you does. Throughout the day you can give your eyes a break by simply looking away from your laptop. A good rule to remember is the 20-20-20 rule. That is every 20 minutes look at something around 20 feet away for 20 seconds. This should help to reduce eye strain caused by looking at digital screens for too long.