For over 30 years we have been providing our customers with the best ergonomic equipment available, and this is backed with our reputation for reliability, caring and friendly service, knowledge and fast delivery.
Established in 1985, Ergonomic Essentials Pty Ltd (formerly known as PPS Australia) has assisted government agencies, large corporations, insurance companies, small businesses and individuals to work smarter and healthier with our extensive range of workplace ergonomic products.
We provide complimentary expert advice and offer genuine service and care, to help you choose the best solution. We want to help you recover from any pain or discomfort as quickly as possible.
We have an interactive multi-floor showroom where you can test out our range of products for yourself to help you to make the right decision.
Our ergonomic product experts will help guide you through our range of exclusive products that you won't find at the big retailers.
We keep the majority of our products in our Australian warehouses, and we dispatch twice a day which enables our customers to get the fastest delivery, helping to reduce your pain and facilitate a faster return to work and improved productivity.
We are committed, invested and exclusively specialised to the Australian ergonomics industry having strong partnerships with Occupational Therapists, Insurance companies as well as medical and physiotherapy professionals.
We are not simply furniture or product resellers – Every day we are helping businesses and employees achieve improvements in well-being and productivity through expert advice and solutions.
If you are looking for value, expert advice and quality products that are proven to actually work for your benefit and health, offered at competitive prices, then we are here to help you. We have built a strong customer base over the years because of our product range, fast delivery times and honest service.
Why we achieve exceptional results and are the trusted source for Ergonomic Office Equipment for tens of thousands of Australians?
Firstly you do not have to buy something randomly and hope that it works. We will give you expert advice free of charge.
All of our consultants have a minimum 3 years' experience so they can confidently deal with your queries
You have the opportunity to try the product in our showroom.
We are an established business with over 30 years of history helping our customers to find the right products to help overcome their pain and work more productively.
Registered Supplier to NSW Government.
Ergonomic Essentials continues to deliver ergonomic equipment to the NSW State Government as an approved advanced supplier under SCM0020 scheme for ICT Services.
PARTNERS
These are a few organisations that we regularly do business with.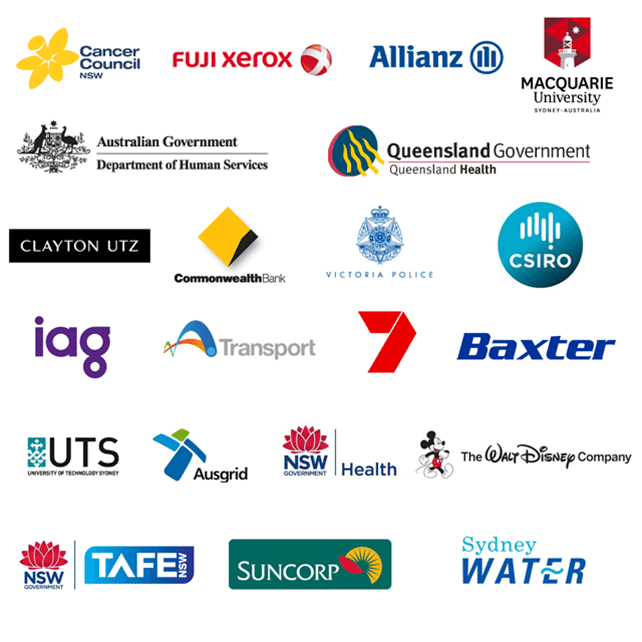 We also support Occupational Therapists and Rehabilitation Consultants across Australia to identify equipment that will assist their clients to overcome injuries such as Repetitive Strain Injury (R.S.I.) and Carpal Tunnel Syndrome (C.T.S) to reduce pain and discomfort and facilitate return to work.