RollerMouse Redefined (Re:d)
SKU:
The new Rollermouse Redefined (Re:d) gives unparalleled control which makes it perfect for fine detail work and graphic designers.
Available in Wired or Wireless.
Experience unrivalled speed, feel and pinpoint accuracy from one good-looking ergonomic mouse!
The Rollermouse Re:d is sleek, solid and durable. It is even easier to use and even more precise. The larger surface provides more control when pointing, rolling or clicking.
Watch the New Rollermouse Redefined (Re:d) in Action Below!
The bigger and better rollerbar gives more control and less strain to the user.
Available in Wired or Wireless.
With the new 7 Senses technology this Rollermouse provides unmatched cursor precision and control.
The 7 Senses; tracks cursor position, constantly adjusting speed and acceleration to ensure the rollerbar is as central as possible, while it intuitively adapts to your pace to decrease micro movements and increase efficiency.
A virtual mouse click has replaced the mechanical mouse click to remove force feedback and reduce the risk of unnecessary strain. This effortless new mouse click action when combined with the textured, thicker rollerbar allows for easier handling.
Key features
8key functions:
-Rollerbar for cursor movement
-Dedicated Copy button
-Dedicated Paste button
-Left click
-Right click
-One touch double click
-Cursor speed adjustment
-Scroll wheel
Rollerbar has extra padding for additional comfort and control
Keyboard risers to customise the height and angle of keyboard
Integrated and detachable wrist rest designed to keep your hands, wrists, and forearms flat
USB Plug and Play installation and connection
An optical sensor detects the cursor movement, making it easier to move the cursor
Click Force Adjustment allows for the adjustment of the amount of pressure required to perform a mouse click
Click Volume Adjustment Additional wrist support available with the RollerMouse Red Plus accessory
Key functions
A. Rollerbar. Roll the bar up, down, and sideways to move the cursor. Use both hands for better variation and flexibility with the fully open rollerbar
B. Cursor speed adjustment. Quick and easy speed selection. Get high precision with a click. Choose between five cursor speeds ranging from 800 dpi to 2400 dpi.
C. Copy. The 'one touch' copy button.
D. Paste. The 'one touch' paste button.
E. Left Click. Use the large left button to left click.
F. Right Click. Use the large right button to right click.
G. Scroll wheel. A new, wider, rubber coated scroll wheel makes the click function even easier and smoother. Move up and down, middle click and auto-scroll lock.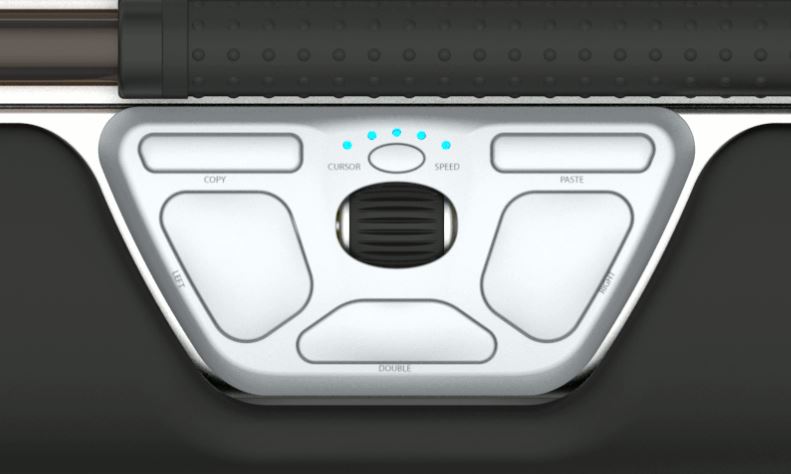 Wired

Wireless

Cursor speed Precision (dpi)

800/1000/1200/1600/2400

600/800/1000/1200/1400/1600

/1800/2000/2200/2400

Connection

USB Cable

Wireless USB Receiver/Charging Cable

Width

40cm

40cm

Height

2.2cm

2.2cm

Depth

10cm

10cm

Rollerbar accessibility

28xm

28cm

Installation

Plug & Play

Plug & Play

Driver

Not required

Not required
(rollermouse-redefined-re)
Be The First To Review This Product!
Help other Ergonomic Essentials users shop smarter by writing reviews for products you have purchased.