Evoluent Vertical Mouse 4 - Right Hand - Wireless
SKU:
The Evoluent™ VerticalMouse™ has a patented shape that supports your hand in a relaxed handshake position, and eliminates the arm twisting required by ordinary mice.
Wireless. Right Hand Model. Regular Size.
It is a major advance in mouse evolution!
This size is suitable for hands measuring at least 178 mm from the tip of the middle finger to the wrist crease.
Hands shorter than 178 mm may be more suitable for the VerticalMouse 4 Small Wireless.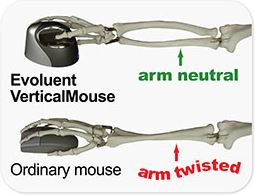 Description
Avoids forearm twisting for comfort and good health. The Evoluent patented shape supports your hand in an upright neutral posture that generally avoids forearm twisting.
Features

Wireless functionality
Adjustable pointer speed
Optical sensor
Five buttons, can be individually programmed through the Evoluent Mouse Manager
Thumb rest
An extra wide lip along the bottom edge prevents the last finger from rubbing the desk
Suitable for hands that are at least 178mm from the tip of the middle finger to the wrist crease
If hand is smaller than 178mm, then the Evoluent Right Hand Small Wireless would be more appropriate
Right hand only models available for wireless

Technical Specifications
Tracking method: Optical monitor sensor Pointer speed: High, Mid, Low, Extra Low Compatibility: PC and Mac Connection: Mini USB receiver
Operating Systems
Microsoft Windows 8/7/Vista/XP/ME/98 Microsoft Windows 2008/2003/2000/NT 4.0 Apple OSX, Apple Mac OS 8.1 or newer
Dimensions
Width: 89mm Height: 80mm Length: 111mm
Colour
Black body, purple buttons, chrome thumb rest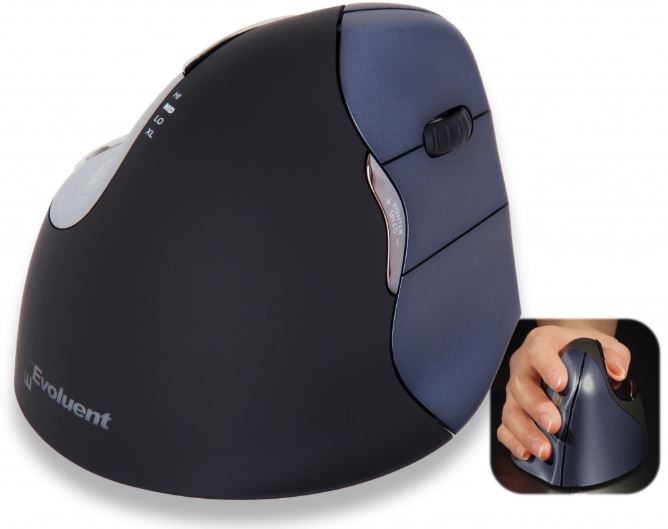 (VM4W-R)
By:

Caroline

on 11 May 2021

This is a replacement for one I've had for years that I finally killed! Awesome tool!




(5)
By:

Simon C.

on 8 April 2021

Perfect. Quality item.




(5)
By:

Anonymous

on 20 January 2021

My hand was right on the borderline for size but feel like the small one would have been better.




(4)
By:

Matthew

on 19 September 2020

Noticeable reduction in forearm and wrist strain compared to using conventional mouse. Easily adapted to using the vertical design after several hours of use.




(5)
By:

Laura

on 24 March 2020

Took a bit of getting used to after using a generic mouse too small for my hand for many years. Can't go back now, this mouse is amazing and has helped my wrist strain as my job is heavy on the mouse use. Well worth the investment!




(5)
By:

Elice

on 4 March 2020

I've used 2 other brands and I think I prefer DXT as the Evoluent version is too chunky




(3)
By:

Mark Shorter

on 30 September 2019

Excellent




(5)
By:

Garry

on 12 June 2019

Easy to purchase and use




(5)