Evoluent Vertical Mouse 4 - Right Hand - Small
SKU:
This small size is suitable for hands smaller than 178mm from the tip of the middle finger to the wrist crease.
Hands larger than 178 mm may be more suitable for the regular sized Evoluent Vertical Mouse.
The Evoluent™ VerticalMouse™ has a patented shape that supports your hand in a relaxed handshake position, and eliminates the arm twisting required by ordinary mice.
It is a major advance in mouse evolution! This is the Small, Wired Model.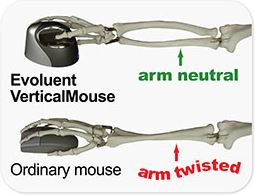 Description
Avoids forearm twisting for comfort and good health. The Evoluent patented shape supports your hand in an upright neutral posture that generally avoids forearm twisting.
Features

Wireless functionality
Adjustable pointer speed
Optical sensor
Five buttons, can be individually programmed through the Evoluent Mouse Manager
Thumb rest
An extra wide lip along the bottom edge prevents the last finger from rubbing the desk
Suitable for hands that are less than 178mm from the tip of the middle finger to the wrist crease
If hand is larger than 178mm, then the Evoluent Right Hand would be more appropriate
Right hand only

Technical Specifications
Tracking method: Optical monitor sensor Pointer speed: High, Mid, Low, Extra Low Compatibility: PC and Mac Connection: USB cable
Operating Systems
Microsoft Windows 8/7/Vista/XP/ME/98 Microsoft Windows 2008/2003/2000/NT 4.0 Apple OSX, Apple Mac OS 8.1 or newer
Dimensions
Width: 85mm Height: 74mm Length: 105mm
Colour
Dark grey body, purple buttons, chrome thumb rest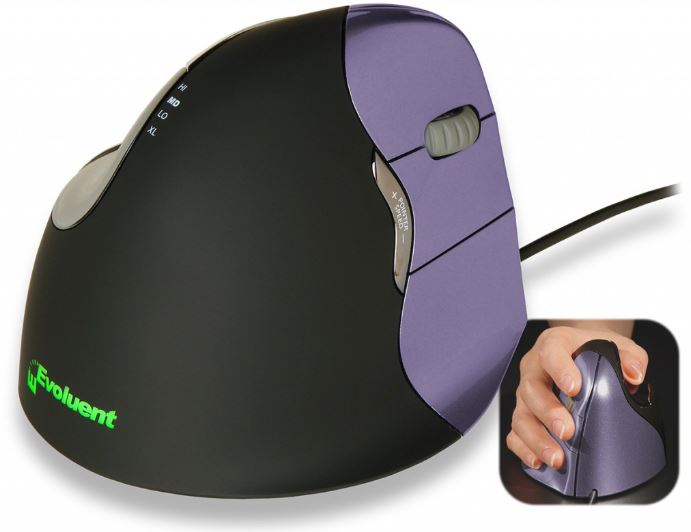 (VM4-S)
By:

Tracie

on 18 January 2021

very comfortable to use - i love the colour




(5)
By:

Anonymous

on 12 June 2019

No more pain in my hands and wrists! Love it.




(5)