bEXACT Prestige Low Back Chair
SKU:

Designed and manufactured in Australia, we are delighted to introduce you to ᵇExact as the only chair that truly knows you!
So simple and quick to adjust, ᵇExact then responds to your size and shape with a perfect fit.
If your chair happens to be shared with a co-worker, then in a matter of moments it can be readjusted to suit them in the same way.
Think of how much more comfortable you will feel with a back that supports the contours of your own shape, and how energised you'll be at the end of each day by sitting in a chair that follows your every movement?
It is so precise in its level of personal recognition, that it's actually Exact… …how exciting is that!

The Prestige presents with a bold, bordered upholstery detailing, that represents strength and leadership.
Designed and manufactured in Melbourne Australia, the Prestige has been developed to meet the growing demands of the 'Agile Working Environment'. Finally, a chair where one size can fit all… An elite concept that marvels in both its aesthetics and functionality is what sets the Prestige apart from all others.
Available with a variety of control mechanisms, the Prestige features our unique and world-first adjustable posture support system.
Sizes are available in Low, High & Extra High back models, and these can be modified with optional seat sizes and upgrades to suit the various shapes and needs of each user.
GST Free (Rated by the ATO as a genuine medical aid/appliance)
SPECIFICATIONS:
Weight Rating: 130KG 3 Lever and Auto Mechanism. 110KG Touch Mechanism
Warranty: 7 years - 8 hour usage per day, 5 days per week 3 years - 24/7 extended usage
Upgrade your bExact chair with a Polished Aluminium Base for $70 - Chair comes in Black as Standard.
Also available in New Aquarius Fabrics: Jezebel (Red), Smurf (Blue), Swart (Grey) for a small charge
How to operate your bExact Chair: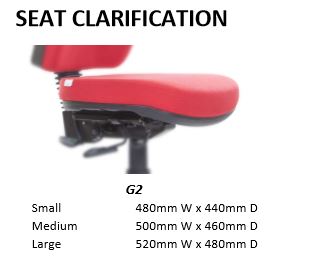 (bexact-prestige-low-back)
Be The First To Review This Product!
Help other Ergonomic Essentials users shop smarter by writing reviews for products you have purchased.