Experiencing pain in your wrist or shoulder? Our guide to picking an ergonomic mouse that suits your needs
Are you experiencing pain in your wrist or shoulder? Or are you being proactive and want to prevent issues such as RSI, frozen shoulder and carpal tunnel syndrome before they creep in? This article is to help guide you in the search for the right ergonomic mouse to suit your individual needs.
There are many different types of mice to choose from, and it can be overwhelming at first. They can look very different to a regular mouse, but don't stress. As a general rule, they are easier to use, and all of them help you to work with less strain and pain.
The main categories that ergonomic mice fall into are the vertical mouse, adjustable mouse, roller bar mouse, and trackball mouse.
Vertical Mouse: A Vertical Mouse such as the Evoluent Vertical Mouse C Series or EZ Vertical Mouse simply works by supporting the hand in an upright neutral posture that eliminates forearm twisting.
By holding your arm in a handshake position rather than the traditional twisted over position, you are helping reduce the pressure on the wrist.
The Evoluent C Series Mouse reduces the angle between the wrist and hand, delivering ergonomics with a modern design and luxurious look.
The EZ mouse has an angle that is not as pronounced, and it is a little smaller, so it is good for people who want a gradual change from a regular mouse, and for those with smaller to medium size hands.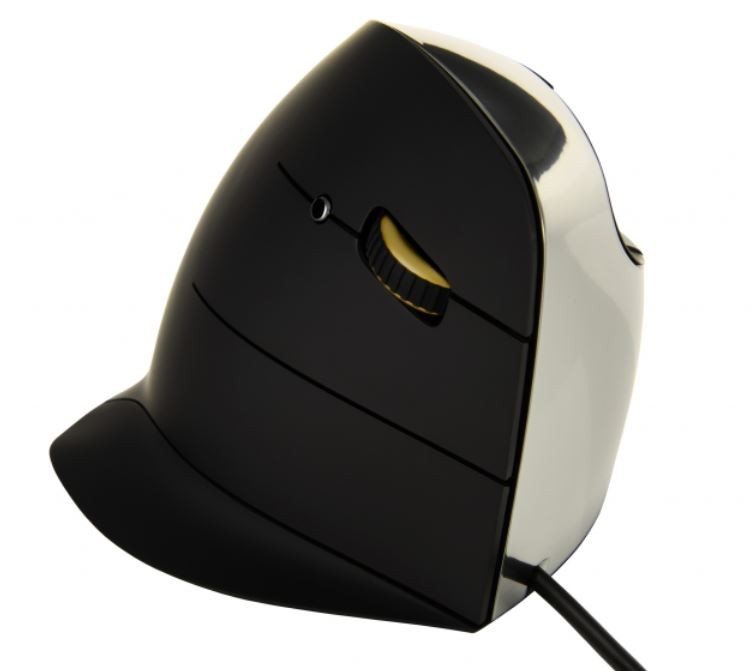 Adjustable Mouse
If you want adjustability and you can gradually build up to a vertical position, then an Adjustable Mouse such as the Oyster Mouse or Unimouse are able to adjust the angle to be adapted to suit the needs of the user.
The Oyster Mouse has 5 different angles that it can be aligned to. You can set it at the angle that you find the most comfortable, or you can alternate the angle when you see fit to work different parts of your hand.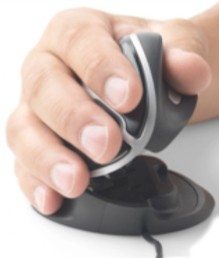 The Unimouse has even more adjustments. The articulating hinge allows you to adjust the angle of body tilt anywhere between 35 to 70 degrees. It features a friction-based system for an experience that is simple, yet stable in any position. It also features revolutionary articulating thumb support which helps to eliminate harmful gripping and pinching of the CMC (basal) joint and helps to reduce RSI. The tri-axis thumb rest accommodates hand width with ease and allows you to relax your grip in any position, regardless of your hand size and shape.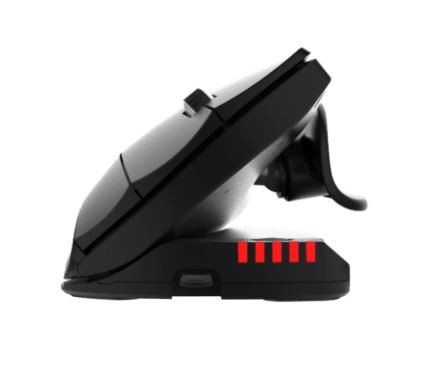 Roller Bar Mouse
A Roller Bar Mouse may seem like the most radical option out of all the ergonomic mice however it is very easy to use when you know how.
The Rollermouse Free 3 simply sits in front of your keyboard, and when you roll the bar, the cursor moves accordingly; e.g. roll the bar forward, and the cursor goes up, move the bar to the left, and the cursor moves left.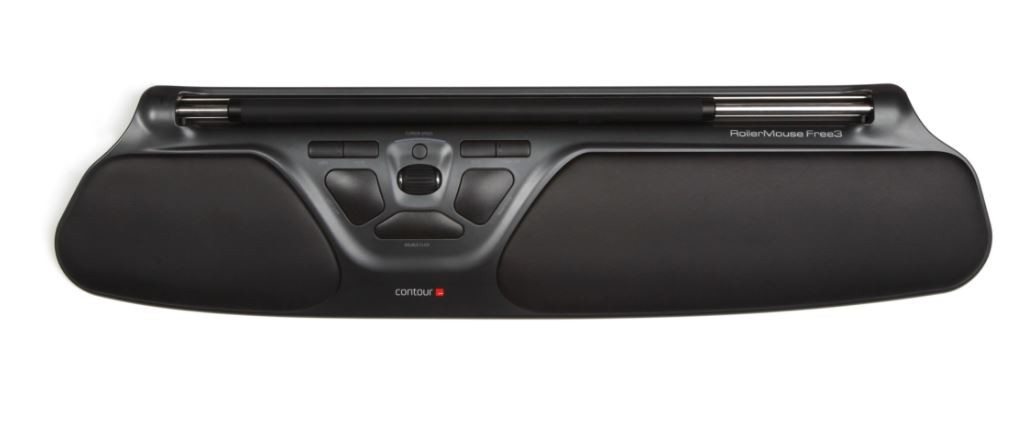 Using a roller bar eliminates any overreaching which commonly occurs when using a regular mouse. Moving a regular mouse around 1000 times a day is known to bring on shoulder pain. A rollermouse brings you into a neutral in-line position which helps to eliminate any overuse from the shoulders.
Having a central bar means that you can also share the workload with both or either hands and different fingers moving the bar. You can perform a left click by pushing the bar in, or you can simply use the buttons in front of the mouse which also include handy copy and paste buttons.
Trackball Mouse
A Trackball Mouse utilises a ball that is rolled around on the spot to move the cursor around the screen. Examples of a trackball mouse include the Logitech MX Ergo Wireless Trackball Mouse and the Kensington Orbit Trackball with Scroll Ring Mouse.
These mice stay in a stationary position, so you are not moving your arm around the place constantly to move the cursor. Instead, you are making smaller movements with your fingers on the trackball to move the cursor.
The Logitech MX Ergo mouse has a trackball that is controlled by your thumb. The mouse is also an adjustable mouse as you can change the angle between zero and 20 degrees. It is available as a right-handed model.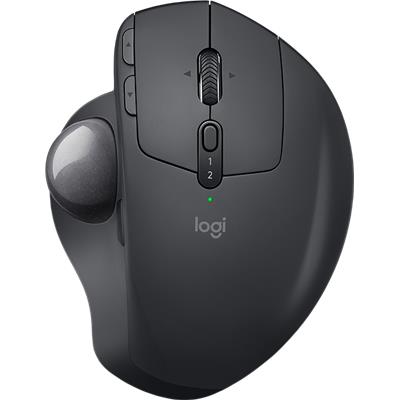 The Kensington Orbit Trackball with Scroll Ring has a central trackball that can be rolled by any fingers excluding the thumb. It also contains a wheel around the ball that can be rotated to act as the scroll wheel. The mouse can be used by either hand.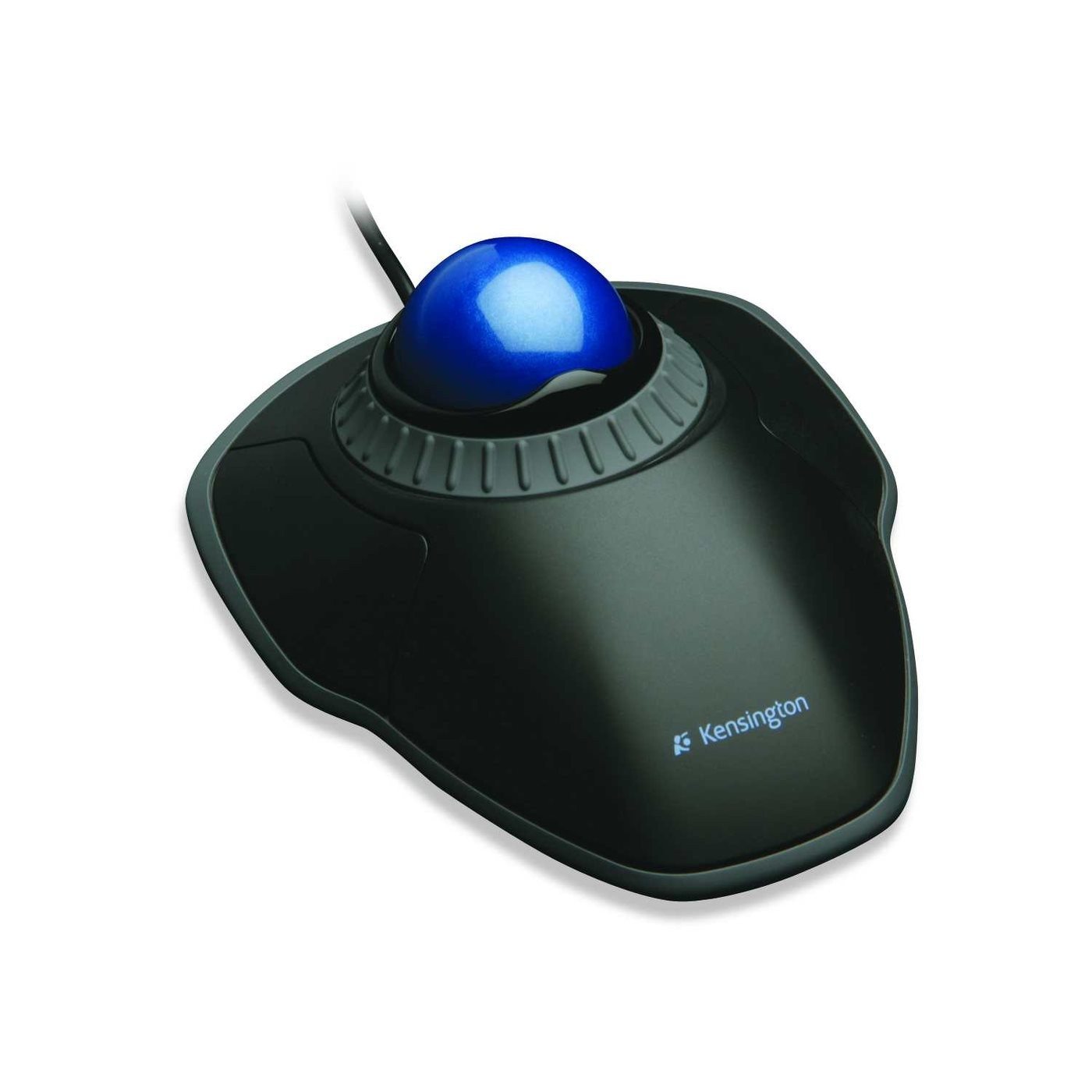 To help you choose which mouse will suit you, you can consider the pain that you are experiencing. As a general rule if you have mostly wrist pain then look at a vertical or an adjustable mouse. If you are experiencing mostly shoulder pain, then a Rollermouse or Trackball is a good starting point.
Depending on the mouse you may have the option of a wired or wireless connection, and a choice of size, and a right or left-handed model for some particular mice.
Check the product pages for more information on what is available or contact us to speak with one of our experts.