Many workers are enthusiastic when provided with a new sit stand workstation or electric desk.
We know that using them can come with many health benefits, so we are eager to put them to use and stand for periods of the day.
These good intentions however can fade away after the novelty of having a sit-stand solution wears off.
The most common reason that we hear from workers who have stopped standing at their sit-stand desk is that the increased standing gives them sore feet or legs.
Most people have become used to sitting all day at work, so initially there can be some discomfort as the body adjusts to standing for longer periods.
To help with these possible aches we recommend using an Anti-Fatigue Mat whilst standing.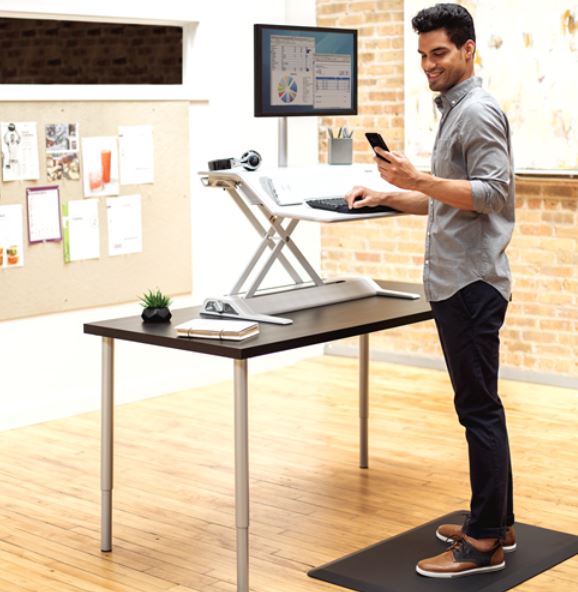 Anti-Fatigue mats come in different sizes and support.
Some are softer, others firmer.
Simply stand on them when working at a sit-stand desk, and then put it to the side when you return to sitting. Some of our most popular mats include the:

Comfort Stand Anti-Fatigue Mat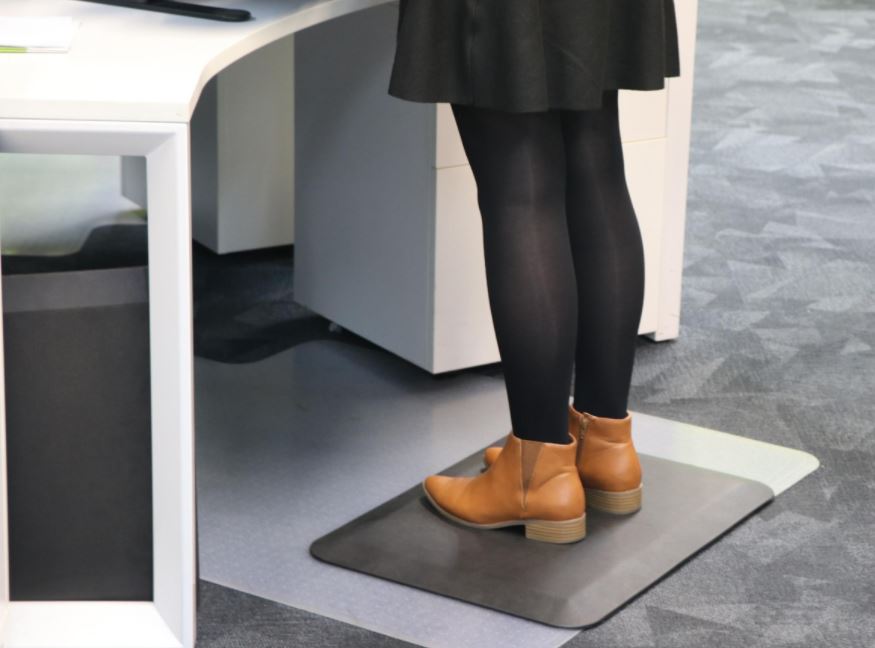 This mat is the best value, and it also has a soft spongy feel. It is a small size at 610mm x 460mm, however you still have enough room to stand comfortably.
If you fidget with your legs and move side to side, then consider a larger mat below.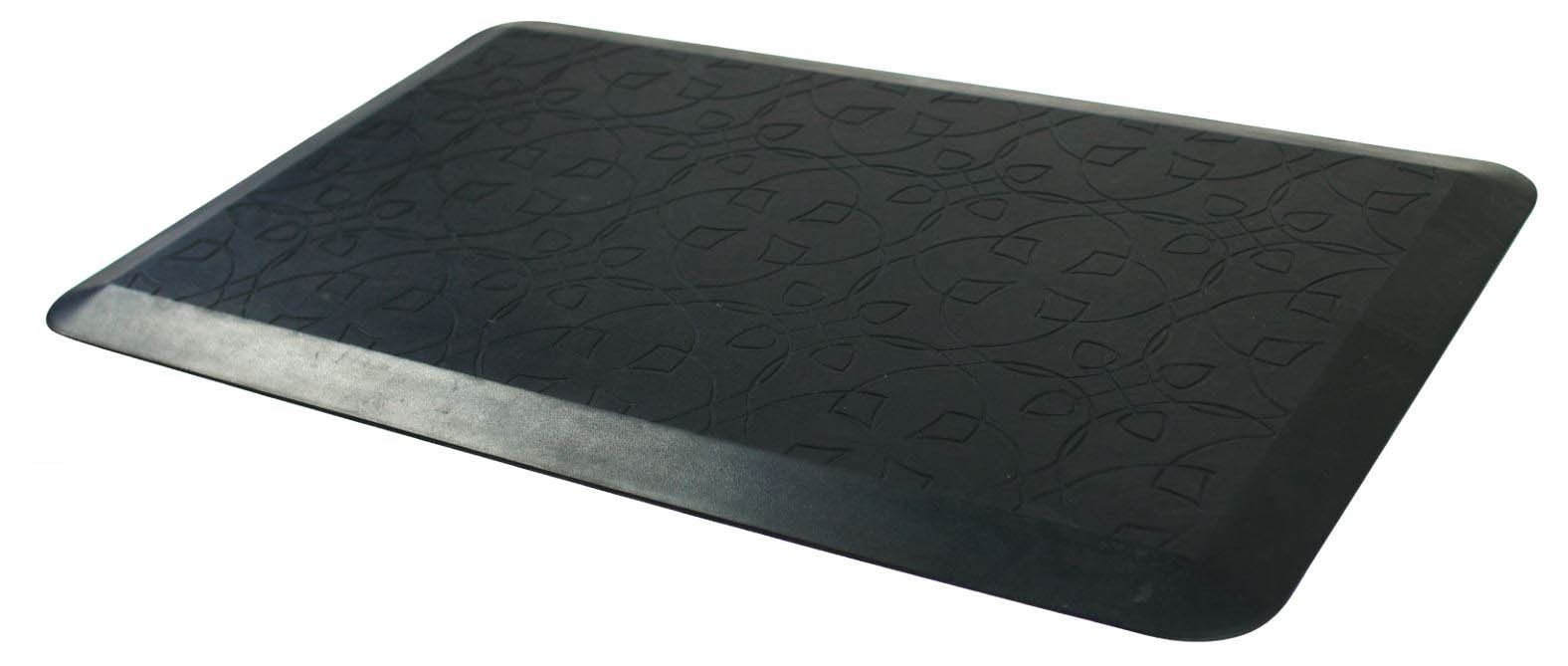 This mat measures 800mm x 500mm. It has a firmer feel than the Comfort Stand, however this is often preferred.
The moulded mat provides a platform that transfers downward pressure away from the hips, knees, ankles and feet. An intricate embossed leafy design distinguishes the soft stand mat.
Fellowes Everyday Sit Stand Mat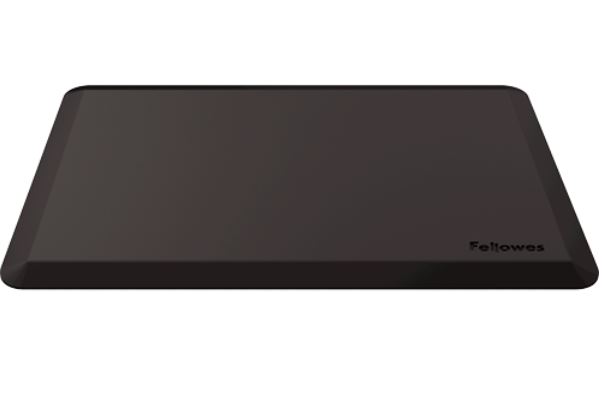 The Fellowes mat measures 900 x 600mm. It encourages subtle movement to help prevent fatigue throughout the day. Bevelled edges help avoid trip hazards.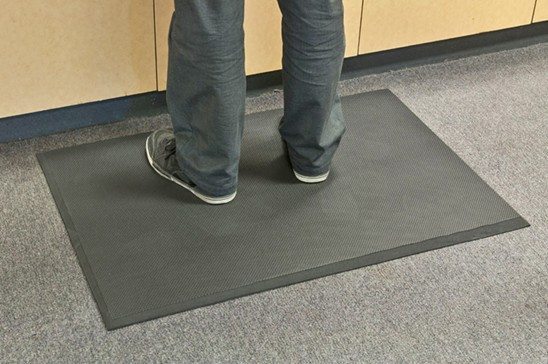 The ultimate in anti-fatigue mats, super soft and supportive you will feel like you are floating on a cloud. It features a closed cell structure that will not absorb liquids making the mat suitable for wet or dry applications. Easy to clean and machine washable. Also resistant to chemicals, grease and oils and anti-microbial.
Featuring an optimal 16mm thickness, closed cell construction, specially designed composite urethane technology and a high tear strength polyurethane outer membrane, the Ergotron Mat can't be beaten on durability.
The inspiration for Topo came from the movements our bodies perform negotiating the varied terrains we encounter when we are active away from our desks.
Topo has seven calculated terrain features that optimally support the body while standing and stimulate healthy movement.
Moving around on these terrains in a combination of stances, articulates joints and activates muscles.
These movements energise, improve circulation and make standing healthier.
Our full range of Anti-Fatigue Mats are listed here - https://www.ergonomicessentials.com.au/accessories/mats/anti-fatigue/ We keep most models in-stock ready for quick dispatch. Order today!